UPCOMING CONCERTS
Dear visitor,
We ask you to please bear with us as we are in the process of constructing a brand new website! Mr. Lipkind has more than 70000 followers and subscribers on the various networks. As is the case for many artists nowadays, a static website just isn't very useful anymore; the information tends to get outdated very fast and needs to be re-entered multiple times on all the different platforms in order for everyone to be informed.

Soon this website will be replaced with a new site that promises a much better (dynamic) integration. It will be updated daily from various sources and Gavriel Lipkind himself will be able to easily reach out to his audience with frequent posts, personal comments, and important news.

In the meantime, please contact Mr. Michael Dinerchtein at michael@lipkind.org for a current concert schedule.
---
Here is a short list of upcoming programs:
Bible of the Cello
Bach: Complete Suites for Cello Solo
Performed in order in one evening with two intermissions

Suite no. 1 & 2
·~·
Suite 3 & 4
·~·
Suite 5 & 6
Cultuurcentrum Hasselt, Belgium - January 2016:


---

Brahms Cello Sonatas
Recitals with pianist Roman Zaslavsky featuring both cello sonatas, often combined with adopted masterworks by Robert Schumann.

Tonhalle Zürich - October 2015:




Alte Oper Frankfurt - February 2016:


---

Cello Concertante
A whole program of concertante pieces for cello and string
Gavriel Lipkind (plays and conducts) with the BCO

Current Program:
Bruch - Kol Nidrei
Schumann - Concerto
·~·
Schubert / Lipkind - Sonata for arpeggione and piano (arr. for cello and strings)
Tchaikovsky - Rococo Variations

Tour in Taiwan and China in March/April 2016.

---

Lipkind Quartet - 2015 program
Bloch - Night
Dvorak - American quartet
·~·
Schubert - Death and the Maiden

Sakura Hall Debut:


Lipkind Quartet plays Beethoven
Op. 135 ("The last quartet") 
Op. 133 ("Grosse Fuge") 
·~·
Op. 95 ("Serioso") 
Op. 18 no. 4 ("Concertante")

To be toured from summer 2016 on
---

Dvorak Concerto in Tokyo with Owada Festival Orchestra

November 2016: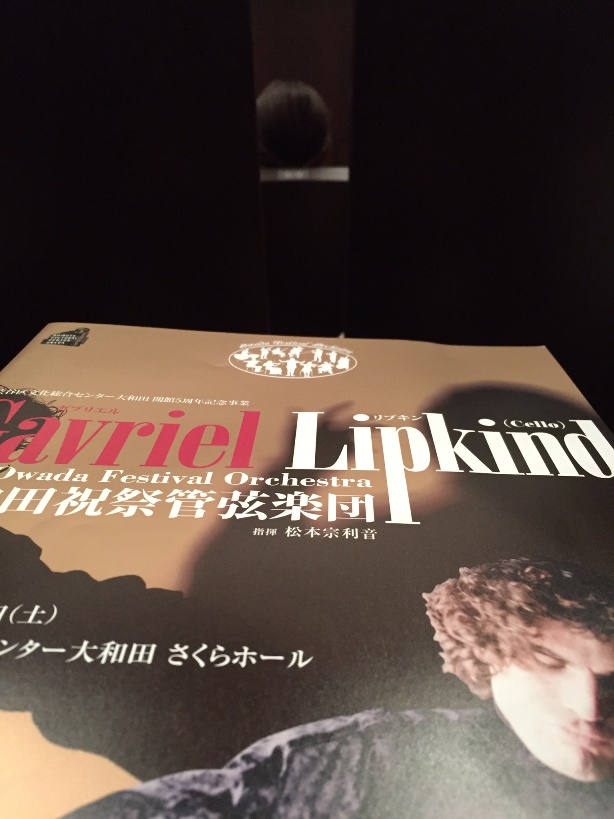 ---

Enrique Arturo Diemecke - Camino y Vision for cello and orchestra (June 2016)
Mexico tour to be conducted by Maestro Diemecke.
Opening concert live on National TV